Dunedin Business and Entertainment Directory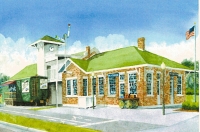 Dunedin Historical Museum
The museum contains approximately 2,000 artifacts, 2,500 photographs and a library containing 200 volumes of local and Florida History. Included in the museum library collection is an electronic...

Avg. rating: 5
from
1 votes
.

---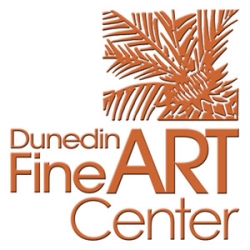 Dunedin Fine Art Center
With classes for children, teens and adults, four galleries and a hands-on Children's Art Museum, DFAC offers creative art experiences for the whole family. Visit our Gift Shop and Café too, to...

Avg. rating: 5
from
1 votes
.

---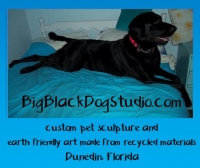 Big Black Dog Studio
Custom pet sculpture of your dog or cat. Perfect gift for an animal lover or to memorialize a beloved pet. Earth-friendly art made from recycled materials. On display at Stirling Arts and Waterfron...
---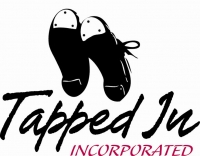 Tapped In, Inc.
TAPPED IN is the premier young adult tap dance performance ensemble in Tampa Bay. Under the artistic direction of Morgan Angelillis, Tapped In offers performances of original works and tap dance...
---

Gypsy Stage Repertory
We are a professional theater company that is based in the Dunedin/Clearwater area that brings professional quality full length and one act plays to area venues. We also offer scene study workshops...
---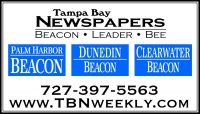 Dunedin Beacon Newspaper
The Dunedin Beacon is part of the Tampa Bay Newspaper Group. A weekly and monthly local community newspaper in business for 30 years. We deliver directly to homes and have pick up spots all over...
---
---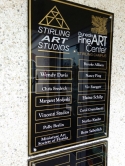 Stirling Art Studio and Gallery
Art studio and gallery
---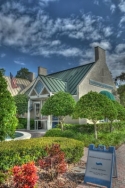 Waterfront Gallery
Local Artist Gallery
---

The Feathered Nest Design Studio
We offer a full design service, specializing in hard and soft window treatments, slipcovers, bedding and upholstery. Whether your project is large or small, it will get the attention to detail it...
---

Natl. Armed Svcs. & Law Enf. Memorial Museum
The National Armed Services & Law Enforcement Memorial Museum (NASLEMM) is an educational memorial museum honoring those who serve, or have served, in the U.S. Armed Forces, or in law enforcement...
---

Art from the Heart Cafe
A "paint-your-own-pottery" shop, located in Dunedin, Florida specializing in: birthday parties, gifts, souvenirs, bridal showers, baby showers, girls' night out, kids' night out, grandparents...
---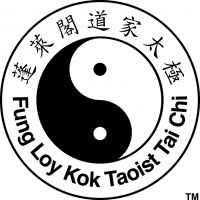 Taoist Tai Chi Society of the USA/International Center FL
The ancient Chinese believed that true health comes when body, mind and spirit work together in harmony. The Taoist Tai Chi® International Center FL is home to practitioners from around the world....
---

Stitch In A Box
Stitch in A Box is a sewing school for kids and adults. I am a certified instructor for Kids Can Sew -creating wearable projects to be proud of! Come learn the lost art of sewing!
---

FOUND Treasures for Living
Dunedin's destination for inspired home decor & furnishings.
---

Carmelita's Mexican Grill and Cantina
Mexican
---

Amanda Austin Antiques
Vintage glass, china, pottery, linens and jewelry. Also home decor, Fiesta, incense, oil and varied gift items.
---

Knot On Main Street
Antiques and Collectibles from over 100 dealers
---

American Legion Post 275
Not for Profit Veterans Organization
---

Around the Clock Refinishers
Furniture - Refinishing & Repair
---

Clay and Paper Gallery of Art
An artist owned gallery with over 80 local/national artists represented. Artworks include painting, pottery, jewelry, paper arts, glass, printmaking, metal arts and more. All handmade ing the...
---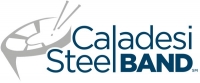 Caladesi Steel Band
Caladesi Steel Band is a steel pan band from Dunedin in the Tampa Bay area. Playing traditional instruments built from steel drums that originated in Trinidad & Tobago, they perform traditional...
---
Dunedin Calendar of Events
January 2022
Next Month
Sun
Mon
Tue
Wed
Thu
Fri
Sat

Dunedin Downtown Market

Dunedin Downtown Market (01/21/2022)

The Dunedin Downtown Market features over 40 vendors selling fresh produce, plants, eggs, meats, cheese, honey, baked goods, soaps, candles, lunch bites and other great items. Live music performed on stage each Saturday the Market is held. Dog...

Get Details

Piper on the Pier

Piper on the Pier (01/21/2022)

Piper on the Pier Every Friday and Saturday during sunset (October 15, 2021 - April 30, 2022), listen to the Piper on the Pier play "Amazing Grace" and other live bagpipe music while watching the sunset at the Dunedin Marina pier. (weather...

Get Details

Dunedin Downtown Market

Dunedin Downtown Market (01/22/2022)

The Dunedin Downtown Market features over 40 vendors selling fresh produce, plants, eggs, meats, cheese, honey, baked goods, soaps, candles, lunch bites and other great items. Live music performed on stage each Saturday the Market is held. Dog...

Get Details

Piper on the Pier

Piper on the Pier (01/22/2022)

Piper on the Pier Every Friday and Saturday during sunset (October 15, 2021 - April 30, 2022), listen to the Piper on the Pier play "Amazing Grace" and other live bagpipe music while watching the sunset at the Dunedin Marina pier. (weather...

Get Details

Dunedin Downtown Market

Dunedin Downtown Market (01/29/2022)

The Dunedin Downtown Market features over 40 vendors selling fresh produce, plants, eggs, meats, cheese, honey, baked goods, soaps, candles, lunch bites and other great items. Live music performed on stage each Saturday the Market is held. Dog...

Get Details

Piper on the Pier

Piper on the Pier (01/29/2022)

Piper on the Pier Every Friday and Saturday during sunset (October 15, 2021 - April 30, 2022), listen to the Piper on the Pier play "Amazing Grace" and other live bagpipe music while watching the sunset at the Dunedin Marina pier. (weather...

Get Details
Calendar Feed from the City of Dunedin