Spring Training
Dunedin, FL Spring Training Home of the Toronto Blue Jays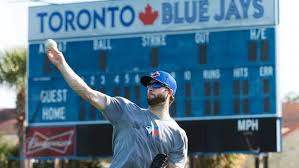 The history of Major League-affiliated baseball in Dunedin finds its beginnings in 1977 when the expansion Blue Jays flew south for the spring for their very first Grapefruit League action.
Upon kicking off the franchise with a 3-1 win over the Mets in their inaugural spring contest on March 11, 1977, Dunedin has been the site for every Spring Training since for the Blue Jays, making Toronto the only major league franchise to have never moved spring training cities.
The Blue Jays aside, Dunedin itself has a rich baseball history that dates back to the early days of the 20th century.
The first ballpark at this site was built in 1930 on land donated by Dunedin Mayor Albert J. Grant, and the park was officially named Grant Field in 1938. Prior to the arrival of the Blue Jays, Grant Field served as the home to Little League, high school and collegiate games, and even served as the Spring Training home of the San Antonio Missions in the early 1950's.
The Dunedin Blue Jays first played as a member of the Florida State League in 1977, but after the '78 season relocated to Kinston, North Carolina where they were known as the Kinston Eagles. Despite the change in minor league affiliation, Toronto continued to call Dunedin their spring training home, and in 1987 the Dunedin Blue Jays were reborn.
After more than 50 years of operation, Grant Field was replaced with a brand new stadium in 1990, and the seating capacity nearly doubled. While Grant Field held up to 3,417 fans, the new Dunedin Stadium had the capacity to hold up to 6,106.
During the 1995 Major League Baseball strike, the Blue Jays considered holding regular season games in Dunedin if the regular season began with replacement players, as Ontario law forbade the Blue Jays from using replacement players in Toronto. However, the strike ended in March 1995 and no Major League regular season games have ever been played at the park.
The ballyard underwent another major renovation at the turn of the century and its current capacity sits at a cozy 5,509, making it one of the most intimate settings in all of professional baseball.
On June 15, 2013, the Florida State League All-Star Game will be hosted in Dunedin for the second time in franchise history. The Mid-Summer Classic will pay homage to the tradition and rich history of the city of Dunedin as well as celebrate the high-quality baseball that the Florida State League has come to expect.
In 2019 The Dunedin Stadium underwent a major renovation modernizing and expanding capabilities.

While it has carried many names and housed many structures, this site stands a true American institution, one that people of Dunedin are proud to share with our Canadian friends.